https://stimmgewalt-berlin.de/wp-content/uploads/2016/05/13271663_1760945134142153_2089707789_o-600x174.png
0
0
Stimmgewalt
https://stimmgewalt-berlin.de/wp-content/uploads/2016/05/13271663_1760945134142153_2089707789_o-600x174.png
Stimmgewalt
2013-09-19 19:14:36
2014-01-12 17:20:21
Drei Konzerte mit "Orphaned Land"
Vielen Dank an die theARTer Galerie für die wundervolle Betreuung, Licht- und Tontechnik und überhaupt die Einladung, auf dieser legendären Bühne singen zu dürfen!
Danke auch Le Comte Caspar von Coppelius für die virtuose Begleitung am Klavier! Es war uns ein Blubberblasenfest!
Many, many thanks to Opera Chaotique who invited us to sing a few songs with them. Really inspiring musicians and great company on stage! You rock, guys!!!
Ebenfalls großer Dank geht an Lady Lileth's Imaginarium für das schaurig schöne Make-Up und an Jörg Merlin Noack – Fotografik für Foto- und Videoaufnahmen! Wir sind auf das Ergebnis sehr gespannt!
Im Anschluss an das grandiose Konzert hatten wir eine fetzige Aftershowparty auf dem Luftschiff London in der 12 Grad Aetherloge. Die dortigen Gäste mögen uns die spontane, sehr antrunkene Zugabe verzeihen
Fotos folgen, wir freuen uns riesig über die bestandene Feuerprobe und auf das kommende Konzert mit Orphaned Land am 18. und 19. September in der theARTer Galerie!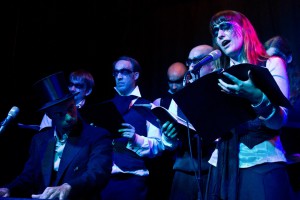 Picture: Jörg Merlin Noack Fotografik
https://stimmgewalt-berlin.de/wp-content/uploads/2016/05/13271663_1760945134142153_2089707789_o-600x174.png
0
0
Stimmgewalt
https://stimmgewalt-berlin.de/wp-content/uploads/2016/05/13271663_1760945134142153_2089707789_o-600x174.png
Stimmgewalt
2013-09-07 12:38:25
2014-01-12 17:20:21
Support vor und mit "Opera Chaotique"